Graphic design plays a massive role in the modern competitive business environment. Businesses these days need graphic design services to create impressive marketing material, including websites, business cards, brochures, leaflets, stationeries, and more.
A memorable and impressive logo is fundamental for any business to build a brand identity. Businesses require graphic design services to create unique social media pages and mobile apps for business promotion. We can mention that graphic design has become essential to getting business done in the virtual and physical markets.
The increasing demand for more graphic items requires effective communication with audiences. More and more businesses are entering the markets as it generates more competition.
The graphic design strategy has become a vital part of drawing the attention of potential customers towards the businesses dealing with the competition with the help of affordable graphic design services. Entrepreneurs feel a greater need to communicate a message targeting the audience effectively.
What Is the Design Part of Graphic Design?
The proper and accurate visual is the graphic, literally a term included in graphic design. The designing part under graphic design is important to create a specific message artistically and professionally. The primary aim here is to produce visual information for the target audience. A graphic design company even stands for visual communication or communication designs.
The creative process involves graphic designers and clients. The designer uses varied visual arts, images, typography skills, and layout techniques to create memorable design pieces. The arrangement of varied design components in a graphic design relies mainly on media, including logos, posters, websites, packages, and more.
Some modern designers use varied graphic software programs, including Adobe Photoshop, Adobe Illustrator, Adobe InDesign, CorelDraw, QuarkXPress, and more. The huge field of graphic design specifically includes prints, broadcasting, and the web.
The print designs include logos, graphics and illustrations, packaging designs, layout, and more. Under the digital category of designs, website, and programming, along with broadcasting, is included along with film graphic designing and animation.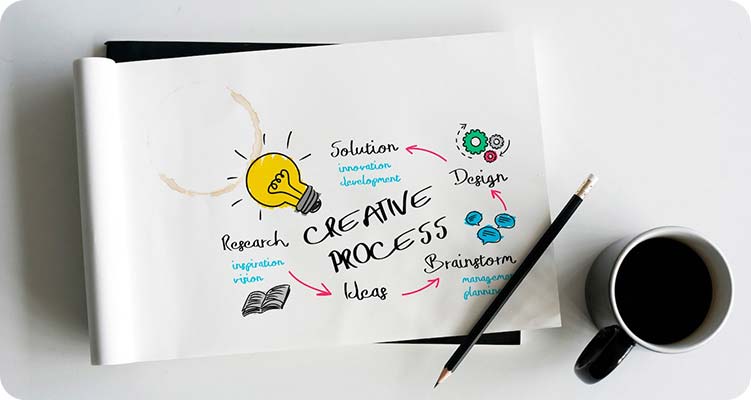 But, whenever you pick specific software for designing logos or anything else, understand that not all software is equally great to meet your requirements. Therefore, it is always better to hire graphic designing services as they know every bit and piece involved in designing.
Graphic design plays a huge role in the modern competitive business environment. Businesses will require the services of graphic designers to create incredible marketing materials, including business cards, brochures, leaflets, stationeries, and so on.
The most memorable and impressive logo is the basic requirement for businesses building a brand identity. Identically, businesses require the services of graphic designers to create unique mobile apps and social media pages to promote businesses. We would mention that graphic design has become a part of business across virtual and physical markets.
The primary reason businesses increasingly demand more graphic design items is the need for effective communication with the audiences. There are more and more businesses who enter into the markets as it is generating greater competition.
Graphic design strategies have become important for drawing the attention of potential customers towards businesses to deal with the competition. Business owners feel a greater need to effectively communicate messages targeting audiences.
Importance of Graphic Design
Some companies need graphic design services from professional graphic designers to create effective marketing materials, including business cards, brochures, banners, flyers, etc. There are times when design services are required, and graphic design involves developing and designing logos to help build the brand's image.
It involves designing exclusive mobile apps and social media pages promoting and advertising the business. Graphic design is more than just beautification and appearance, as it has greater benefits instead of making something that appears attractive.
There are several benefits associated with graphic design for companies whenever they are used effectively. Graphic and design business services can help promote marketing and advertising activities with the help of potential visual communication. It helps to inform, educate or persuade your target audiences and turn them into sales.
The guide will cover six primary reasons why every business should start investing in professional graphic design and why it pays off in the long term.
1. Enhance Brand Recognition with Better Designs
One of the ideal ways graphic design can help grow your business is by enhancing brand recognition and awareness. The elements involved in graphic design are shapes, colors, logos, and images which the visual cues contribute to the identity of the brand. These brand components are the primary reason we instantly recognize them as the bigger brands. It is important to keep up with the trends in branding to keep it relevant and updated.
Graphic design is essential since it conveys your brand's personality and makes them instantly recognizable for business. It even communicates the message of your company visually through shapes and images.
Color psychology is an effective tool used in brand building. There are varied colors that evoke different emotions. Good graphic design uses the power of color psychology to make your brand memorable and personal to the audiences you target.
2. Good Design Builds Credibility and Trust
Graphic design is more than just making things appear pretty. It conveys the message, personality, and values of the brands. It will help make your brand more credible, professional, and authentic. Whenever people check out a well-designed brochure or logo, they are more likely to understand the company's trustworthiness and professionalism.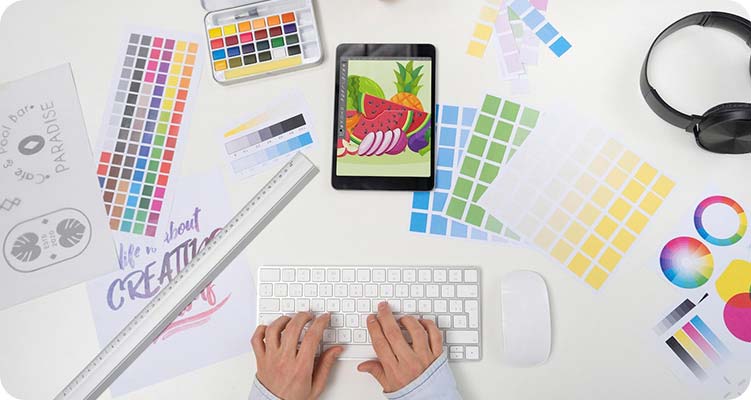 Graphic design helps establish your brand's personality for building familiarity and trust with your consumers. Your brand's personality is a mode of describing the characteristics of a brand. As an outcome, the consumers often relate to the brand since it conveys the traits of personality appealing to them by sharing similar values. It would lead them to become loyal customers.
3. You Can Stand out From Your Competition with Good Design
You can easily stand out from the competition. Yet, another reason it is important to invest in professional graphic design with the help of a reputable graphic design services company for your business. Good design will often attract and hold the customers' attention, leading to greater conversions.
A lot is conveyed through your visual identity about who you are and your offerings compared to the other businesses in this industry. Spending time researching your competitor's brand identities is vital to ensure that your one stands out. Check out your unique style as people start noticing and easily identifying the main personality traits of the brand. As an outcome, your brand becomes memorable to stand out from the crowd.
4. Good Designs Impact the Purchase Decisions
The reports stated that about 93% of shoppers today place visual appearance above any other factors in their buying decisions. A well-designed logo, site, or product packaging will leave a positive impression on the consumer and make them start interacting with your business more often and purchasing more products.
It makes great sense as the branding design is the highly tangible way the consumers are getting in touch with businesses. It is vital to keep in mind how your services or products appear and feel, affecting how it perceives people. Therefore, in turn, it influences their purchase decisions.
5. Enhanced Website Conversions
Good graphic design is considered one of the highly vital contributors to the higher conversion rates of a site. Your visitors might fail at converting as they might not like whatever they are witnessing.
Whenever someone visits the site, they are instantly judging what your brand appears like and whether they will stick around. People will never take you seriously if the design of your site is confusing, outdated, or amateur.
In digitalization, it is important to have user-friendly web apps to boost your business. You can easily take the help of the highly responsive React Admin Templates, which are ready-to-use for professional web apps.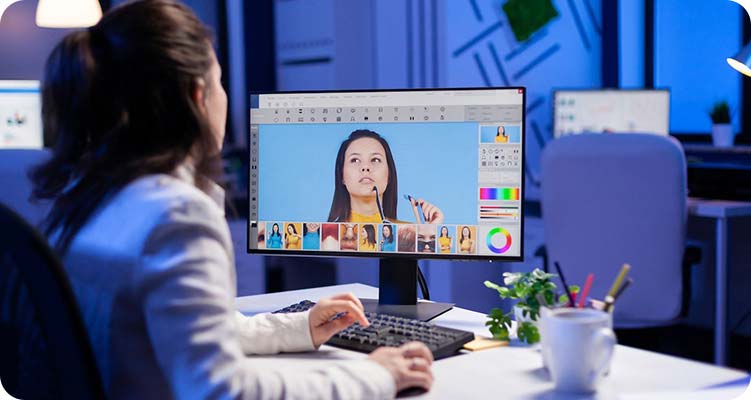 It is the reason why good graphic design is very important for conversion rates. It helps build trust with your visitors and encourages them to buy from your business. Graphic design services help you display reliability and professionalism, so that prospective clients have formed a positive business opinion even before contact is made.
6. Good Design Has an Impact on Sales
The main aim of graphic design is regarding the communication of messages with the help of visuals and creating a greater impact on audiences. The art of visual communication is the key to a successful business, whether it is awareness regarding a new service or product, communicating whatever the brand stands for and represents, and promoting a sale. We come in contact with several things daily, void of any images, color, and exciting visuals that catch the eye without graphic design.
The lack of a visual identity makes your products and brands appear uninspiring and dull. A stronger visual identity can help the customers connect, trust, and engage with the brand over time. It starts reinforcing loyalty and building credibility, and as a result, it helps to increase sales.
The following are a few tips for graphic design for building stronger customer relationships:
Execute the graphic design professionally. Make sure that your logo is a vector file across a
transparent background. Make use of the high-resolution graphics appearing in-focus and sharp.
Simple errors with the designs undermine the credibility of a business. However, better design
fundamentals show you have an idea of whatever you do.
Develop the packaging designs reflecting the entire brand design allowing people to check out
the connection between your brand and the products they sell.
Following and referring to your brand style guide for every visual content representing your
business. A greater consistency shows that your company is reliable and trustworthy.
Always discuss the brand with your graphic designer before they start their work. Be transparent
about who you are, as the design shows the brand's authenticity inspiring greater trust than any
polished facade.
Conclusion
Graphics for businesses are really important since they are the digital storefront window for bigger and smaller businesses where no company exists without them. It emphasizes the importance of graphic design services with greater effectiveness and creative graphic designs helping to build brand awareness and influencing the customer's decision-making process.
Graphic design is considered one of the most vital factors influencing a business's success. It is imperative to have a consistent, professional image to target your audience in taking seriousness in business. Irrespective of what several other business owners believe, investing in professional graphic design is a necessity instead of a commodity.