You should initially decide to pick a platform for operating your website if you plan on starting an online business. You should start by evaluating every pro and con and pay special focus to the availability of the payment option, marketing features, shipping possibilities, and future expenses while comparing eCommerce platforms.
These days, having a presence on the internet or an eCommerce store is the potential way to grow a business. It is not easier to expand and diversify the reach whether or not someone is successful in selling a product. It is where you need effective Shopify website development services.
Shopify is the software solution allowing anyone to establish an online store and sell their products. It does not narrate the entire story, though. Shopify is not only a store builder or a tool for selling your products online. It is an eCommerce platform built by custom Shopify development services having the ability to expedite the launch of the business of your dreams and start selling them to your customers wherever they are located.
Starting an Online Business on Shopify
Shopify is offering their entrepreneurs and merchants every required functionality for operating their eCommerce sites on the platform. Shopify assists you in starting to operate your stores after following a couple of easy steps, whether you are opening an online store for the first time or searching for ways to expand your existing business.
Initially, the platform offers free tools to establish your brand online, including a domain availability checker, business name generator, and logo maker. Next, you need to pick a store from a massive range of options available across the Shopify Theme Store. Shopify even allows you to personalize your site by uploading images of higher quality.
You have to add the products while selecting the best payment gateways, and your business will start and start running as you start to sell on Shopify. You can start selling and marketing your products anywhere, on your eCommerce site, social media, online marketplaces, or a physical store.
Today, we have compiled a few reasons why you should start using Shopify website development services to help grow your online business.
1. Maintenance & Hosting
Shopify is the hosted platform where the merchant does not need to look for suitable providers while hosting the site and configuring the server settings to optimize the work. Shopify handles the maintenance and the software upgrade since it is built on SaaS or Software-As-A-Service model. Therefore, you should get a completely functional store with unlimited bandwidth, optimized web page speed, and free updates when you use Shopify web development services.
2. Security
Shopify is the most reliable solution due to its strict security policies undergoing the security approaches being a self-hosted platform. There are minor changes for hacker attacks and unauthorized access to the store since the users are not interfering with the server configurations. Furthermore, Shopify is offering Level 1 PCI-compliant hosting guaranteeing the customer's data safety and personal details.
3. Flexible Pricing Plans
Shopify offers a couple of pricing schemes with varied features that get included under every plan, and a transaction fee is charged. The subscription fee starts from $29/month for the basic plan and increases to $299/month for the advanced ones. The users running their store or blog on WordPress CMS can add a Shopify "Buy Button" on the website for $9/month. There is also a Lite plan to subscribe under the same cost that allows you to sell products across Facebook.
4. User-Friendly Backend Interface
One of the main perks of creating a Shopify website is the ease of usage. The backend interface is structured logically and pretty straightforward, allowing users to configure every required setting without any unique skills involved. Shopify has the in-built drag-and-drop wizard allowing you to arrange every component of your site while previewing them under the live mode.
5. Massive Selection of Store Themes
Shopify offers more than 70 professional templates. You can pick the one that represents your brand well. The Shopify theme store has both paid and free templates that are completely responsive and customizable across any device.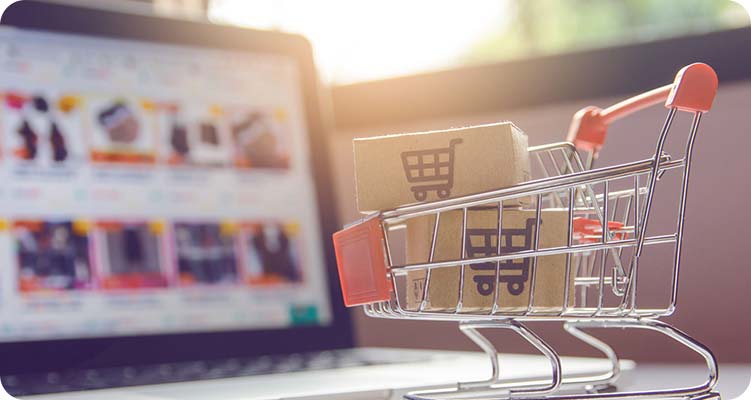 If you are unsure about the best theme, you can check out ShopThemeDetector. They enlist a couple of the ideal themes across varied niches and even have lists of the ideal apps that help you add more functionality to the site.
6. Design Customization
You can start changing the entire layout to make the Shopify template fit ideally onto the theme of your site, as you can alter the content and colors without any skills in design. Alternatively, you even get better control over the store to make it look and feel better by modifying the CSS or HTML code with Liquid, a templating language that Shopify uses under e-commerce development services.
7. App store
Installing new plugins from the Shopify App Business is a simple way to extend the functionality of your web store, which is why you need to hire a Shopify developer. Shopify has over 2,500 applications available for free or by subscription. Many plugins are available to help you achieve your company objectives, whether you need to expand your marketing reach, link your store with new sales channels, or manage your inventory more effectively. The Shopify App Store includes a solution for almost every eCommerce need.
8. Products & Management of Inventory
The simple interface of Shopify allows you to rapidly add items, complete all essential information, upload photographs, and assign categories. All crucial product-related data may be imported and exported through CSV or Excel files. Furthermore, Shopify includes an order tracking tool that syncs inventory across different locations, allowing you to keep track of all your sales channels and order fulfillment.
9. Shopify Point of Sale
The Shopify POS solution enables retail business owners to sell their in-store and online products. Depending on your company objectives, you may begin selling items offline by installing the Shopify Point of Sale software on your smartphone or tablet, or you can acquire customized PoS hardware for your retail store.
10. Multiple Sales Channels

Shopify assists store owners in reaching out to potential customers by linking their websites with other sales channels such as Facebook, Instagram, Pinterest, eBay, and Amazon. You may expand your audience and increase your sales by selling from a single location.
11. Mobile Commerce
The Shopify Mobile app allows you to browse and manage your business while on the go. Installing the app on your iOS or Android mobile will allow you to manage your items, process orders, monitor sales figures, access customer data, and receive push alerts on order placement from anywhere and any time.
12. Payment Options
Stripe, PayPal, Authorize.net, and Google Checkout are just a handful of the payment gateways supported by Shopify. Furthermore, Shopify Payments, the platform's payment mechanism, allows you to eliminate transaction costs levied by third-party payment processors.
13. Fast and Simple Shipping
The capability of a Shopify development company enables users with exact shipping pricing computation following their delivery plan. Furthermore, the platform incorporates a live shipping rates system, which connects your website with carriers and instantly determines appropriate pricing at the checkout. Additionally, suppose you wish to employ drop shipping for order processing. In that case, Shopify can link you to fulfillment providers like Amazon, Shipwire, and Rakuten and administer your business with the Oberlo app.
14. Secure Checkout
When using Shopify website development services, you can ensure that your customer has a better checkout experience due to the higher level of encryption technology with the help of the SSL certificate offered for free.
15. Content Management System

Shopify websites have a content management system (CMS) that allows users to create new web pages, alter content, and develop an effective content marketing plan. In addition, you will have access to a fully functional blogging platform incorporated within your eCommerce site.
16. Marketing Tools
The platform has basic SEO tools that can be expanded with strong third-party plugins. You may also use internet marketing tools such as coupon code production, email campaigns, gift cards, and Google AdWords.
17. Built-in Analytics
Shopify provides valuable insights into your business operations through a single dashboard where you can examine critical sales, orders, shipping, and payment information. Furthermore, the platform fully integrates with Google Analytics to comprehensively assess your store's performance.
18. Services Marketplace
Shopify features a list of authorized specialists that can help with shop setup, design, marketing, content development, and other services.
19. Shopify Exchange Marketplace
If you don't want to construct your online store from the ground up, you may purchase a pre-built Shopify site from a specialized marketplace. At the same time, you can sell your Shopify store if you wish to pursue another business venture.
20. Customer Support
Shopify offers its customers formal 24-hour customer assistance by phone, chat, and email. You also have access to thorough documentation and tutorials and the Shopify Help Center, where you can get exhaustive information on various difficulties.
Final Words
Using the Shopify website development services will empower the merchants to create attractive eCommerce sites and successfully operate an online business. Shopify is the best choice if you are planning to sell goods both online or through an online store or wish to gain further control over the site's design and get a smoother integration using the third-party modules having access to a wider selection of payment methods.
Using the hosted solution of Shopify, you no longer need to worry about the store configuration and optimize the performance. Furthermore, you can avail of the system scaling business growth. Therefore, the decision lies on you whether you wish to choose Shopify or any other platform to start a seamless eCommerce business.